Tomatoes
Monday, September 15, 2008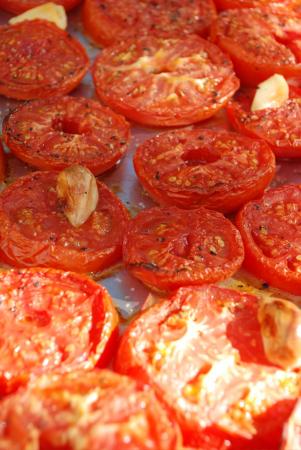 (TO LEARN MORE ABOUT MY NEW BOOK, GO
TO THE DINNER DIARIES WEBSITE
.)
At first I thought $20 was a lot to spend on local beefsteak tomatoes I intended to roast and freeze, but after spending some time looking into the cost of a family vacation for next February, I realized that $20 is nothing when you consider that these tomatoes, turned into a rich red sauce, will be my family's winter vacation.
I do wonder how much six cups of peeled, cooked tomatoes in a can would cost at the store, but instead of thinking about it too carefully, I'm going to buy more and make another batch. Not only will they cheer me up this winter, I won't get a skin-damaging sunburn or irritating sand in my sheets.
Yours truly,
Pollyanna
Roasted Tomatoes
Adapted from How to Cook Everything Vegetarian by Mark Bittman
Preheat the oven to 375. Grease a large baking sheet with olive oil.
Core and halve tomatoes around the equator instead of lengthwise. (Is he mocking me with his equatorial references?) Throw in some garlic cloves. Drizzle with olive oil, salt and pepper and roast until the tomatoes start to char and shrivel, about 40 - 50 minutes or longer if you don't take the seeds out (I didn't but I might next time - just to air things out a little, get a little crazy). Let cool on the pan, then slip the skins off.
Freeze with delusions of grandeur.