The Healthful Hedonist: Comfort Food for the 21st Century
Oatmeal Yogurt Pancakes
Wednesday, April 14, 2010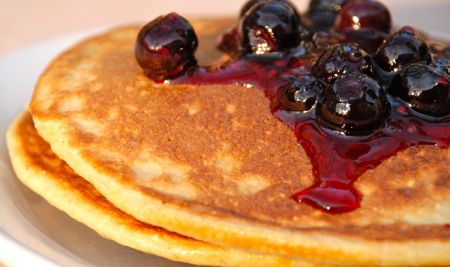 Simple. Sustainable. Savory.

Wednesdays on Mama Cooks.


I don't like pancakes - if I'm having cake for breakfast it needs to be chocolate, but really I don't want cake for breakfast - and I'm generally growing a little tired of wheat. How much wheat do you eat? Around here it's far too much.

So I came up with this alterna-cake. The teenager and picky husband won't try even one bite, but the third grader has eaten them a number of times. They're good weekday pancakes, she says. Maybe someday she'll eat them on a Saturday, but I'll take my victories in small doses, as needed. As for me, I'll eat these any day of the week.



½ cup plain Greek yogurt
3 eggs
1 teaspoon vanilla
1 cup old fashioned oatmeal mixed with
¼ teaspoon salt
¼ teaspoon baking soda
¼ teaspoon baking powder


Process everything in a blender until smooth and pour circles into hot, oiled pan. Cook until cooked, obviously.