The Healthful Hedonist: Comfort Food for the 21st Century
Garlic Soup
Wednesday, February 17, 2010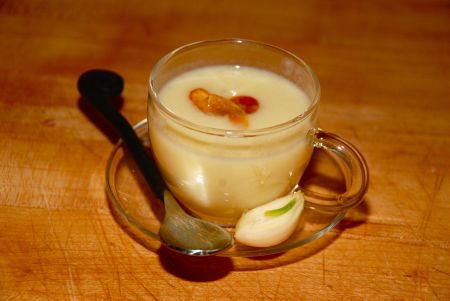 Savory. Sustainable. Simple.

Wednesdays on Mama Cooks.



This little vignette has nothing to do with this week's recipe but it's been bothering me and I need to get it out:

A few days ago I went to retrieve the chocolate-caramel bar I'd hidden from the kids -- I know I've said I should stop doing this but I just can't, don't want to and won't -- anyway, I went to retrieve it and I couldn't remember where it was. I looked in a few of my usual hiding places. Nothing. Finally I went to a special drawer in my office and, tucked between old contracts and tax receipts, were two half-eaten candy bars (one caramel, one mint) and one untouched (dark). Three candy bars, none of which I'd remembered were in there, none of which were the one I was looking for. That one is a fat little bar of the smoothest milk chocolate surrounding the softest butter-rum caramel. It still lies in wait somewhere in my house.



Adapted from A Culinary Journey in Gascony by Kate Ratliffe (Ten Speed Press, 1995)

This is super creamy and rich even though there's no dairy in it.

1 tablespoon butter
1 whole head garlic, peeled and smashed (good when you're having a rough day)
1 yellow or white onion, chopped
4 shallots, chopped
1 tablespoon flour
salt and pepper
3 egg yolks
1 tablespoon wine vinegar
toasted bread for the bowls

Bring 6 cups of water to a boil. Meanwhile, melt the butter in a saucepan over medium-low heat. Add the garlic, onion and shallots and cook over low heat until they sweat and soften but they shouldn't turn brown.

Sprinkle the vegetables with the flour and stir. Cook for another minute or so but remove before, you know, the vegetables begin to brown.

Add salt and pepper to the boiling water then add the cooked veggies to the pot. Simmer for 20-30 minutes. Puree.

Beat the egg yolks in a small bowl with the vinegar. Add a few spoonfuls of the hot water to the yolks and whisk, then add the egg yolks to the pan of water in a drizzle, whisking hard all the while. Heat gently until the soup thickens; don't boil or it will curdle.

The author suggests adding in lots of pepper and more vinegar, so that's what some of us did - those of us who like vinegar and pepper - and it was great.