Make Mama Look Good
Happy Ending Latkes
Friday, February 17, 2006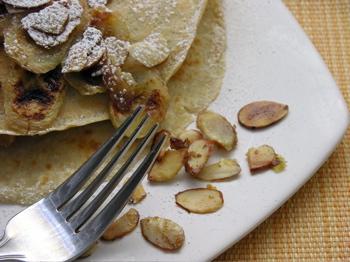 A couple of weeks ago, school got out at 11:15 AM Tuesday, Wednesday and Thursday because of teacher conferences. I just love having my kids at home, especially lately, since I've recently put the kibosh on TV. We played Monopoly, laughed, baked cookies, screamed at each other - okay, I admit it: by Thursday afternoon, things were fraying around the edges. Then, on Friday morning, we woke up to the first real snowstorm of the season: forecasters were calling for three to six inches starting at 5 a.m. I was steeling myself for the possibility of both school and nighttime baby-sitter cancellations. It wasn't looking good.
But miraculously, we were full-steam ahead: both kids had school. I let out a sigh of relief and sent them off with BD. I was looking at four glorious hours to myself for the first time all week. It was great. I walked on the treadmill, made a few calls to friends, read the paper, then leisurely decided to make something special to eat on this wild 'n woolly day.
I had gotten a handful of Indian-style latke recipes from the fabulous former-Bollywood-star-turned-caterer, Tara Deshpande of
Azalea Catering.
Indian-style latkes, I'd thought?
What da heck
(as four-year-old P would say)? Who knew there even
was
a Jewish community in India? I certainly didn't, and so I did some
reading about the history of the Indian Jews
and learned that yes, there's been a small but devout Jewish community in India for hundreds of years. And while this Hannukah I'll certainly be making traditional potato latkes (give up fried, salted potatoes? I don't think so), I'm more than happy to expand my holiday repertoire (along with my pants).
All the recipes Tara sent sounded
amazing
- chickpea latkes with lime and mango relish; spinach latkes seasoned with fenugreek and cilantro with a tangy tomato chutney; three-lentil latkes seasoned with mustard seeds, served with a coconut-cilantro sauce - but I knew I had to try the cardamom-flavored banana latkes, not because they sounded
better
than any of the other recipes, but because they sounded
easier
.
Excited, standing in a clean and child-free kitchen (though nervously watching the snow accumulate inch by unpleasant inch), I started making the latke batter. (Actually, these are really like crepes, and happily so. Any excuse for more good food in December works for me). It was only once I'd dumped everything in a bowl and started mixing it together that I realized the recipe said
not
to add the coconut at this point. I looked down at the coconut in the bowl and shrugged.
Tara said to let the batter sit for half an hour, but I let is sit for far longer than that - for hours, in fact, until I could gather everyone from their respective schools. First I picked up four-year-old P and her adorable little friend J, who immediately showed me up by helping P get her boots off. Damn kid. Fortunately, she redeemed herself when she proceeded to devour an entire serving of latkes and then asked her mother, who'd come by with coffee for the two of us, to make this dish for
her
sometime. Her mother then told me that until this day, little J said she "didn't like"bananas.
That
is a
serious
score. I can understand why I converted her, though; the coconut and cardamom crepes are addictive. Fill them with caramelized bananas, nutmeg and almonds sauted in butter and - well, anyone could probably convince a girl who hates bananas to ask for more.
Feeling all happy and well-fed, I realized it was time to get E from school. I innocently asked J's mom if she could stay with the kids for five minutes while I went to get E. An hour and fifteen minutes later I finally careened over a hill of snow back into our driveway. I was soaking wet, freezing and frazzled.
I can honestly say that in 20 years of living in New England, this was the worst driving I've ever experienced. It just so happened that right at pickup time, the wind whipped up, the storm turned into a blizzard, the streets became a skating rink, and snow started "falling" horizontally. Total whiteout. E's school is about a mile away, but it is literally all uphill to get there (and then, of course, all downhill to get back). At one point, my car, losing traction on a bad hill, made a bad grinding noise and then exuded a scary burning smell. The main street in town became a parking lot. In the midst of everything else, it started to thunder. And lightning. And then, I kid you not, the windshield wipers broke.
But once a scared and mad E and I finally did make it home, we entered the house to find a different world - one where all peril was held at bay. The girls were playing happily. A neighbor and her infant had dropped by (well, I had invited them over for - you know, latkes? - but then forgot, thanks to the
blizzard
). There were three moms and four kids, everyone was safe and warm, and I still had the rest of the latke batter to cook up. To top it off, our baby-sitter came through that night and BD and I went out for an early dinner. All in all, an unbelievable ending to what could have been a very bad day. In fact, I might even have to rename these ...
HAPPY ENDING LATKES
Otherwise known as Cardamom-flavored banana latkes
For latkes
12 oz thick coconut milk (a whole can is 13.5 ounces, so that's what I used)
2 cups all purpose flour
1.5 cups of water (minus a few drops to make up for the extra coconut milk)
4 eggs
1 teaspoon kosher salt
2 teaspoons ground cardamom seeds
4 teaspoons sugar
1 cup grated, sweetened coconut (I didn't like all the extra ingredients in the sweetened coconut so I used unsweetened and added a total of a half-cup of sugar. This made it deliciously semi-sweet -- perfect for an afterschool snack or breakfast. If you added more sugar, it could turn into a great dessert.)
For filling
6 overripe bananas, peeled
4 ounces butter (Tara says you can use margarine if you want the latkes to be Parve)
cup sliced cashews or almonds
Half a teaspoon ground nutmeg
cup white poppy seeds (couldn't find these easily so just omitted them)
Sugar for drizzling
For latkes
Combine all ingredients for latkes in a blender except coconut. Blend till smooth, add more water if required. Add coconut, stir well, cover and let sit a half hour. Stir mixture well and add one cup water if mixture has thickened too much. Heat one tablespoon butter in a crepe pan and pour 3 tablespoons batter onto pan. Cook until both sides are browned.
Top with banana filling and drizzle with a teaspoon sugar. Serve hot.
For filling
Heat butter in a skillet. Add almonds and saut 60 seconds. Add poppy seeds and saut 30 seconds. Add bananas and nutmeg. Cook on high until bananas are caramelized, about 2-3 minutes.