The Healthful Hedonist: Comfort Food for the 21st Century
Chestnut Mushroom Soup
Wednesday, November 18, 2009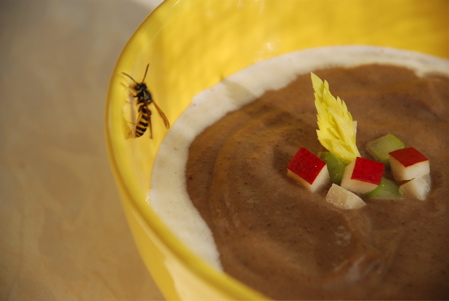 Savory. Simple. Sustainable.
Wednesdays on Mama Cooks.
NB: A few people have asked if I can email them when I post a new column. The answer is no, I can't; I know email clutter all too well, although thank you for asking! Instead, you can sign up via that subtle yet effective RSS button on the upper right of this page.

Also, a few people have asked if I can put a "Share" button on my site so they can post the column to Facebook. (Again, thanks for asking!) Done and done. Look for the Bookmark and Share button with far more options than I even understand here on the Columns page.
Thanks for stopping by Mama Cooks!
I got this recipe from nationally renowned, James Beard Award-winning chef
Jody Adams
, owner of
Rialto
in Cambridge, Mass. I spent a happy hour or so working on this, trying to follow her recipe against uneven odds, which is only to say that I didn't necessarily have every single ingredient called for, and maybe I wasn't able to fully concentrate on what I was doing owing to all the usual chaos in the house.
And yet, the soup turned out to be nothing less than spectacular: smooth, creamy, rich and savory. It was like fall in a bowl. Rather, it was like fall without regret that we're heading into a five- or six-month winter. Or like fall without raking leaves. In other words, it's really more like uber-fall in a bowl. Which just goes to show: if a recipe is good enough, it can withstand any number of indignities piled upon it by even the most distracted home cook. And that's something to be thankful for.
If you don't feel like cooking, you live in Boston and you can tell how good this soup is by looking at the photo, know that it, along with many other delicacies, will be on next week's Thanksgiving menu at
Rialto
; they'll be serving dinner from 1 p.m. - 7 p.m. Also, just so you know, Rialto also has complimentary wine tastings on Wednesdays from 5:30 – 7:30, as well as a $1 oyster bar starting at 5:30 on Monday evenings until the oysters run out. I have plans to head in there with an old high school pal one of these nights myself.
Chestnut-mushroom soup…celery, pear, parmesan
Jody Adams of
Rialto
Makes about 8 servings.
ounce Pancetta, in one piece
cup extra virgin olive oil
cup -inch dice carrots
cup -inch dice turnip,
cup -inch dice onion
cup -inch dice celery
Kosher salt and freshly ground black pepper
1 pounds assorted chopped mushrooms
oz dried porcini soaked in 1/2 cup warm water, then strained, cleaned and chopped
cup marsala
1 quart chicken stock
Bouquet garni
pound peeled and frozen chestnuts (or
1 shallot, thinly sliced
cup white wine
1 bay leaf
1 sprig thyme
Water
Salt and pepper
2 cups heavy cream (I used less, of course, and it was still outrageous)
cup freshly grated Parmigiano Reggiano
2 tablespoons -inch dice peeled pear
2 tablespoons -inch dice peeled celery
2 tablespoons -inch dice Parmigiano Reggiano
16 celery leaves, from heart of celery
In a large soup pot, render the pancetta with 2 tablespoons olive oil over medium heat. Add the carrots, turnips, onions and celery, season with salt and pepper, and cook 8 minutes or until tender and slightly caramelized. Add the mushrooms, season with salt and pepper and cook 15 minutes until tender and dry. Add the marsala and cook to a glaze. Add the chicken stock and bouquet garni and simmer 30 minutes. Remove the pancetta and bouquet and puree until smooth.

Meanwhile heat 2 tablespoons olive oil in a saut pan. Add the chestnuts, season with salt and pepper and cook 10 minutes or until golden brown. Add the shallots and cook 5 minutes. Add the white wine, bay leaves and thyme and reduce halfway. Add water to just cover the chestnuts. Cover with a round of parchment paper and cook 12 minutes or until tender. Remove herbs and puree until smooth.

Mix the two purees together. Taste and adjust seasoning.

To make the Parmesan cream, heat the cream in a small saucepan over medium heat. As soon as the cream is warm, whisk in the Parmesan cheese until it has completely melted. Season with salt and pepper and keep warm.

To serve, put a cup Parmesan cream in the bottom of a warm soup bowl. Carefully pour the mushroom chestnut soup in the center of the cream. The cream should move up the side of the bowl forming a white rim around the dark soup.

Mix the diced pear, cheese and celery together. Top the soup with the diced mixture. Garnish with celery leaves.