WINTER
Harder Than It Looks, But Worth It Anyway
Monday, January 21, 2008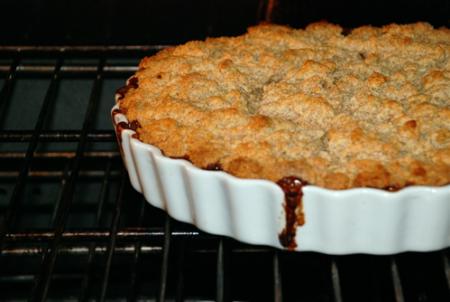 When I served this to my friend Eileen and her family for dinner one frigid Saturday night, she called me a "culinary inspiration." That made me blush, but really, all I did was follow directions. At least, mostly. (I'm not always so good at that, so I'll take credit where it's due.)
This gorgeous creation is just one of many I can't wait to try in my new favorite cookbook:
The New Vegetarian Epicure
by
Anna Thomas
. I'm dreaming of her Greek Pasta Casserole, Polenta Torta with Roasted Squash, Artichoke Frittata, Buckwheat Crepes, Yogurt and Potatoes with Mint . . .
Of course my family won't eat any of this, so I'm not sure what to do – maybe invite Eileen back for more meals? Or maybe she can invite me over next time, because when she asked to borrow my book, I found myself so loathe to part with it that I bought her one too.
Anyway, even the name of this dish makes me happy, but as I told Eileen when she raved, this wasn't one of those times when it was easier than it looks. This recipe involves a lot of steps, which, when it's the middle of a New England winter and you're cooking a hearty meal for family and friends over a hot stove, might actually be just what the doctor ordered.
Wild Mushroom Cobbler
by
Anna Thomas
, The New Vegetarian Epicure
filling:
2 lbs. red Spanish onions
2 ½ Tbs. olive oil
2 ½ Tbs. butter
salt to taste
1 oz. dried porcini
½ lb. fresh porcini or Portobello mushrooms (or, you know, whatever looks good)
½ lb. fresh oyster mushroom (ditto)
2 cloves garlic, chopped
pinch of dried thyme
pinch of cayenne
fresh-ground black pepper to taste
½ cup dry red wine
1 ½ Tbs. flour
1 ½ cups low-fat milk, heated
topping:
2 cups all-purpose flour (I used half whole wheat)
1 tsp. baking soda
2 tsp. baking powder
1 tsp. salt
4 Tbs. chilled butter
½ cup fresh-grated Parmesan cheese
1 1/3 cups buttermilk
Prepare the filling: Peel, quarter, and slice the red onions. In a large nonstick skillet, heat a tablespoon of olive oil and a tablespoon of butter, add the onions and a good sprinkle of salt, and cook over low heat, stirring often, for about an hour. The onions will gradually soften and eventually caramelize to a golden-brown color and incredible sweetness.
Pour boiling water to cover over the dried porcini and leave them to soak for at least 30 minutes. (They will smell highly unsavory at first.) Clean, trim, and slice the fresh mushrooms. When the dried porcini are soft, rinse them carefully and chop them finely. Strain the soaking water through a coffee filter and reserve it.
In another large nonstick skillet, heat 1 ½ tablespoons of olive oil and ½ tablespoon butter. Add the chopped garlic and stir for 1 minute, then add the sliced fresh mushrooms and a little salt. Sauté the mushrooms, stirring often, until they start to release their liquid. Add the chopped porcini, a pinch of thyme, a pinch of cayenne, and fresh-ground black pepper to taste, and keep cooking over medium heat until the excess liquid has cooked away, and the mushrooms are sizzling and beginning to color.
Add the red wine, stirring as it cooks away, then add the soaking liquid from the dried mushrooms. Combine the mushrooms with the caramelized onions and simmer them all together for a few minutes.
In a small, heavy-bottomed saucepan, melt the remaining tablespoon of butter and stir in 1 ½ tablespoons flour. Stir the roux over medium heat for 3 or 4 minutes, until it is golden. Add the heated milk, whisking steadily. Keep stirring with a whisk for several minutes, as the sauce thickens. Stir the white sauce into the onions and mushrooms. Taste, and correct the seasoning with more salt and pepper as needed.
Pour the mushroom mixture into a lightly buttered medium-sized gratin dish, spreading it evenly.
Prepare the biscuit dough: Combine the flour, baking soda, baking powder, and salt in the container of a food processor. Add the chilled butter, cut in chunks, and process briefly, until the mixture has the texture of coarse meal. Add the Parmesan cheese and process a few seconds.
Transfer the mixture to a bowl and stir in the buttermilk, just until a dough forms. It will be thick and sticky; don't over mix it.
Spoon the biscuit dough onto the mushrooms, distributing it more or less evenly over the top. Bake the cobbler in a preheated 400 degree oven for about 25 minutes.
Bask in the oohs and ahhhs. You deserve them.